The Supreme Court of Vanuatu and the Pacific Judicial Strengthening Initiative hosted the Management and Refresher Training-of-Trainers Workshop from 11-14 February, 2019, at the Dumbea Court Complex.
The workshop was opened by Acting Chief Registrar, Mr Joel Shemi, on behalf of the Chief Justice and attended by 7 Supreme Court Heads of Department and senior staff. The faculty included facilitators from Vanuatu and Australia.
Participants of the workshop received training to develop their capacity and confidence in leading, designing, delivering, monitoring and evaluating ongoing judicial and court development activities. Ms Belinda Garae, Human Resources Officer, noted that: "It is an achievement of the judiciary to involve all Heads of Department in an activity like this - I feel more confident!"
The practical and interactive workshop also focused on developing adult learning skills to help the Supreme Court with implementing its recently published Judicial Management Improvement Plan 2019. It is one of the many workshops held by the Pacific Judicial Strengthening Initiative within the Pacific.
The Initiative is funded by New Zealand Ministry of Foreign Affairs and Trade which has supported promoting the rule of law across the Pacific over recent years. Ms Wendy Raptigh, the Supreme Court's Judicial Development and Training Coordinator, noted that the workshop was "…very intensive and very relevant to enhancing our roles and responsibilities within the Court."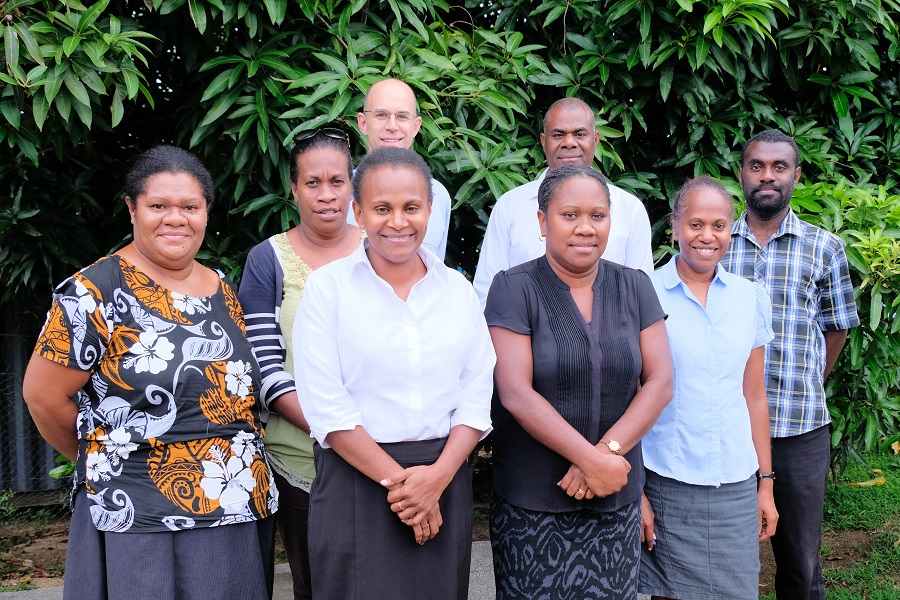 Front Row (left to right): Pauline Kalo - Librarian & Archive officer; Wendy Raptigh - Judicial Development & Training Coordinator; Katherine Abel - Finance officer; Florina Toran - Assistant Registrar.
Back Row (left to right): Belinda Garae - Human Resources Officer; Lorenz Metzner - PJSI Team Leader; Joel Shemi - Acting Chief Registrar; Robsen Lapsai - Acting Senior Administrator for Island Courts.